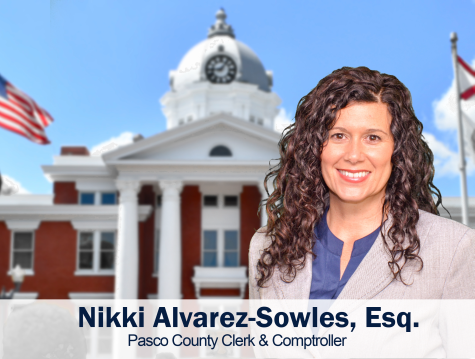 Message from the Clerk & Comptroller

Welcome to the Pasco County Clerk & Comptroller's website. Our mission is to serve with integrity, professionalism, and compassion. This site experiences considerable traffic, averaging 1,500,000 page-loads monthly. Because your time is valuable,and your business here is important, we strive to make certain our online information is well-organized and easily obtainable.

To help navigate our website, use the search tool, marked by a looking glass on the left-hand side of each page. We hope you find the information you need. For additional assistance, our Call Center is ready during business hours to assist with any court-related questions.

Electronic payment of traffic citations, child support, and official records can be conducted and you may easily access our foreclosure and tax deed auction processes. Information on jury services, county finances, and official records also are available for your use.

Please let us know if you have ideas about how we can better serve you on this website.

Thank you for visiting www.pascoclerk.com

Nikki Alvarez-Sowles, Esq.
Pasco County Clerk & Comptroller



Our office hours are 8:30 a.m. - 5:00 p.m. EST Monday-Friday, with the exception of 2018 & 2019 Holidays.

Clerk & Comptroller employees may obtain weather related notices and additional information by visiting the ADP Employee Portal.

Pasco County Animal Abuser Search
Animal cruelty is a serious problem, resulting in the abuse of many animals each year. While the State of Florida has criminalized the cruel treatment of animals, abuse and cruelty continue to occur in Pasco County.
The Animal Abuser Search was established to enable compliance with Pasco County Ordinance Number 17-01, which forbids knowingly selling, exchanging, or otherwise transferring cats or dogs to individuals who have been charged and convicted of an animal cruelty offense on or after March 1, 2017.
For more information regarding Ordinance Number 17-01,
please click here.
Continue to the Animal Abuser Search.
Don't fall for bond-refund scam

Beware! The Orange County Clerk & Comptroller's Office has alerted us to a company running a possible bond refund scam. The company, www.bondrefund.com, apparently sends unsolicited mailers or advertisements to customers who have posted cash bonds in criminal cases. The advertisements tell customers the Clerk is holding their bond money, and the customer is entitled to a refund. Once the customer makes a payment of $69, the Bond Refund company provides the customer a form and instructs the customer to submit the form to the Clerk for their refund. Customers are being scammed out of their money, because the cash bond has either (1) been applied to outstanding balances, either in this case or other cases, or (2) has been, or is being, disbursed to the customer already. The Bond Refund website has a drop-down menu that lists several counties in which this "service" is available. These counties include Alachua, Duval, Orange, and Polk -- but not, so far, Pasco.
Watch your wallet!
Unscrupulous operators hoping to separate honest folks from their hard-earned money are back at it. Beware!
An outfit calling itself County Records Office, LLC – which has no affiliation with Pasco County (or any other government, for that matter) – solicits property owners with a letter promising to deliver a copy of their deed in exchange for $89 – in check or money order.
The form of payment is crucial. Unlike the protections afforded credit card payments, consumers who discover the scam after they've issued a check or money order never will see their money returned.
And it is a scam, straight up.
Deeds are among the public records available for free viewing and at-home printing on our website, www.pascoclerk.com. From the home page, choose Online Services, then click Official Records near the bottom of the right-hand column. Fill in the information, perform the I-am-not-a-robot skill, and, voila, a link to an image of the deed you seek pops right up.
This is – we cannot say it too often – a free service.
Your no-charge print-at-home copy is exactly the same as the one promised by the unscrupulous solicitors. Also note: Its value is informational only. It cannot be used for legal purposes.
Click here for more information.