Felony and Misdemeanor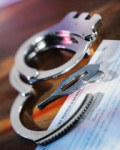 The Criminal Department handles all with felony, misdemeanor, criminal traffic, and county ordinances.
Felony cases are crimes of a more serious nature, punishable by death or imprisonment for more than one year. There are 1st, 2nd or 3rd degree felonies with different penalties for each degree.
Misdemeanor cases are lower than felonies and are punishable by fine, penalty, forfeiture or imprisonment not in a state penitentiary for less than one year. Misdemeanors are also categorized as 1st or 2nd degree.
County or municipal ordinances are rules established by counties or municipalities that apply only to them. They are the equivalent of municipal or county statutes passed by the governing body regarding matters that are not already covered by federal or state law. Ordinances generally govern zoning, building and safety matters of the municipality.
Felony, misdemeanor, criminal traffic, and county ordinance case files are available for public viewing unless the case has been sealed, expunged, or confidential by law. A court file that has been sealed requires a court order to unseal the file prior to viewing its contents.
Copies of documents in criminal court files can be purchased for a fee of $1 per page. If the requested copy is to be certified an additional $2 will be charged for the certification, unless copying of document is prohibited by law.


Victim's Rights
If you have been a victim of a crime, click the following link to obtain information on your rights as a victim.
Victim's Rights
Fees and Costs
Copies of Court Documents
$1 per page
Certification of Copies
$2.00 per document
Assisted Record Searches
$2.00
per name per year
Computer Record Searches
Free
Issuing subpoena (sign and seal only)
$ 2.00
Prepare and issue subpoena for a witness
(includes signing and sealing)
$ 7.00
Restitution payments (per payment)
$ 3.50
Sealing any court file or expungement of any record
$42.00
Information for Sealing or Expunging a Record
The Pasco County Clerk & Comptroller is providing this following information to assist navigation through the process of requesting a criminal history record be sealed or expunged. If you have any questions about the laws and rules, it is recommended that you seek the advice of an attorney. If you do not have an attorney, you may contact the
West Pasco County Bar Association
lawyer referral services.
Information for Sealing or Expunging a Record
Clemency and Restoration of Civil Rights
For more information on Clemency and the restoration of your civil rights, please visit the
Florida Parole Commission's
web site or call toll free at 1-800-488-2952.
Department Contact Information
DADE CITY
NEW PORT RICHEY
Nikki Alvarez-Sowles, Esq.
Pasco County Clerk & Comptroller
38053 Live Oak Avenue
Suite 210
Dade City, FL 33523-3894
352-521-4542, Option 1
8:30am-5:00pm
Monday-Friday



Directions
Nikki Alvarez-Sowles, Esq.
Pasco County Clerk & Comptroller
Mailing Address
P.O. Box 338
New Port Richey, FL 34656-0338
Physical Location:
7530 Little Road
New Port Richey, FL 34654
Suite 106
727-847-8031, Option 1
8:30am-5:00pm
Monday-Friday
Directions