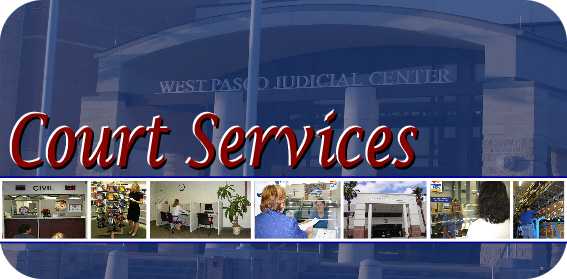 The Court Services Division processes over a million documents per year. We handle the paperwork for cases involving child custody and support, adoptions, divorces, other circuit civil related matters, probate of wills, guardianship, mental health, juvenile and felony cases filed in Circuit Court. We also process the paperwork for county civil, small claims, landlord/tenant, misdemeanor, traffic infraction and criminal traffic cases filed in County Court. Court Services manages the jury system used in both County and Circuit Court. This Division handles all court files and evidence as well. Finally, the Court Services Division receives payments for fines, court costs, public defender fees, child support, and restitution as ordered by the Court.
Jury Service
Jurors are currently selected at random from a list provided by the Florida Department of Highway Safety and Motor Vehicles. The list, or venire, is made up of qualified motorists 18 years of age or older or individuals 18 years of age or older who hold Florida identification cards.
Access Jury Services
Judicial Assignments
Pasco County Electronic Filing
Court Appointed Attorney Standards
Pursuant to
Administrative Order 2016-022 PA/PI-CIR
, Re: Court Appointed Attorney Standards & Due Process Costs, the office of the Clerk of the Circuit Court was directed to publish the name and phone numbers of a point of contact for attorneys to notify of changes in their phone number, availability or status.
For your convenience, the points of contact are:
Kimberly Thompson (727) 847-2411 Ext: 8747
Carol Condry (727) 847-2411 Ext: 8707
Julie Hancock (727) 847-2411 Ext: 2581