Official Records
Under the guidance of
Senate Bill 80
, the Pasco County Clerk and Comptroller has provided public access to related government records by utilizing the links available on this page.
To request public records not included in our searchable databases, please use the contact information at the bottom of this page.
Indexes to Official Records can be searched online by going to
Search Official Records
. In the Official Records you will find Deeds, Mortgages, Assignments, Liens, Satisfactions, Judgments, Orders, Dismissals, Lis Pendens, etc. You may view and print many of these documents.
Search Official Records
Search Plats
Official Records Redaction Form
Update to Official Records Indexing
In accordance with section 28.222(2), Florida Statutes: The clerk of the circuit court shall record all instruments in one general series called "Official Records." He or she shall keep a register in which he or she shall enter at the time of filing the filing number of each instrument filed for record, the date and hour of filing, the kind of instrument, and the names of the parties to the instrument. The clerk shall maintain a general alphabetical index, direct and inverse, of all instruments filed for record. The register of Official Records must be available at each office where official records may be filed. Accordingly, effective January 1, 2018, all documents recorded in our Official Records will be indexed under all names contained in the document. This may affect the fee charged for this service. In accordance with section 28.24(12)(c), Florida Statutes: For indexing instruments recorded in the official records which contain more than four names, per additional name..........$1.00 Note: The first four names are included in the recording fee, thereafter the fee is $1.00 per name.

Copies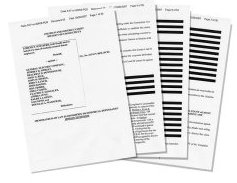 Certified copies of recorded documents may be purchased by mail using the copy order form below. Copies of older documents, not available online, may also be purchased with the order form. The order form can be completed online and then printed by using Adobe Acrobat.
Copy Order Form
Copies of recorded documents may also be purchased online with a credit card via MyFlorida.com. There is a convenience fee charged by
MyFlorida.com
to use this service.
Recording a Document
Necessary Information
The date of the instrument
The names of all parties must be legible (how to count names)
Notary public seal and notary signature per Florida Statute 117.05
Return address
Make sure it is a Pasco County property referencing a legal description if the document deals with real property
Is Your Document a Deed?
If your document is a deed it MUST include the above necessary information as well as:
Grantor and grantee(s) address(es) pursuant to Florida Statute 695.26
Name and address of the person who prepared the document. The printed name must appear beneath each signature pursuant to Florida Statute 695.26
Legal description
Consideration or Sale Price
Two witnesses must witness the signature(s) of the grantor(s). The printed name must appear beneath each signature pursuant to Florida Statute 695.26 and Florida Statute 689.01
Notary public or other authorized person to take acknowledgement whose signature appears on the instrument. The printed name must appear beneath the signature pursuant to Florida Statute 695.26
Recording Fee Calculators
To better assist our customers and to eliminate the need to return documents due to incorrect recording fees, fee calculators are provided to assist with the calculation of documentary stamps and recording fees for deeds, mortgages, and other document types prior to submitting documents for recording.
Recording Fees
Fee Calculators
eRecording
eRecording is an efficient, time saving way to record documents electronically. Documents are recorded and returned back to the submitter within hours instead of days. This service is available to a wide variety of customers. Submitters are required to adhere to national electronic recording standards. All that is needed is a PC, scanner and internet connection to convert documents to an electronic format. Begin by contacting the vendor listed below to sign up for eRecording.
Simplifile -
www.simplifile.com
or Phone 800-460-5657.
CSC -
www.erecording.com
or Phone 866-652-0111.
Passports
Passport Requirements, Passport Application, Expedited Service, Fees, Renewals, and Passport Card.
Passports
Plats
Search plat maps on-line by using the name of your the subdivision, plat book, and page number found on your the Warranty Deed, or the section/township/range.
A 24 x 36 version of a plat map is available by visiting the Clerk & Comptroller's Office for a fee of $5.00 per page.
Plats on line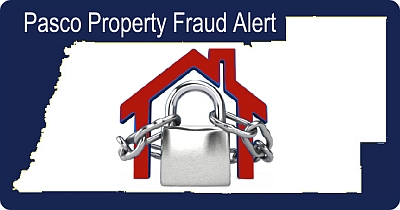 The Property Fraud Alert system helps to protect a person's property from fraud by monitoring documents such as liens, deeds, and mortgages that are recorded in Pasco County. Just like signing up to receive alerts on credit cards or identity protection, the Property Fraud Alert system provides peace of mind in knowing that your property is being monitored against the filing of fraudulent documents in the owner's name.
Customers determine the personal and business name(s) they want monitored and may choose to receive alerts through email or over the phone. Upon notification of a document recorded with the registered name(s), property owners may verify whether the activity was initiated by them or someone attempting to commit property fraud.
Registering for the Pasco County Clerk & Comptroller's fraud alert protection is free and easy by calling (800) 747-4600 or click the link below.
Property Fraud Alert Service
---
Solicitation Alert, click here for more information.
---
Public Records and Protected Personal Information